Quick specs Glashütte Original Sixties Iconic Square
Price: $ 9,700 | € 8.200 | approx. £ 6,950
Size: 41.35 mm × 41.35 mm
Reference: Red: 1-39-34-24-32-04 | Green: 1-39-34-23-32-04 | Blue: 1-39-34-22-32-04 | Orange: 1-39-34-26-32-04 | Grey: 1-39-34-25-32-04
Back in the 1960s Glashütte Original was named GUB, or VEB Glashütte Uhrenbetrieb (German for 'watch company'). It was an East German conglomerate (formed in 1951) located in Glashütte, Germany. They also owned A. Lange & Söhne at the time. One of their most popular models in the 1960s was the Glashütte Spezimatic and this new Glashütte Original Sixties Iconic Square collection is inspired by that model. So, let's take you back to the roaring sixties.
The 1960s were a revolution in social norms about formalities, sexuality, drugs, schooling, clothing and music. And the world faced some mayor achievements and mayor disappointments. The Berlin wall was constructed, the Soviets sent the first man into outer space and the Americans landed on the moon. There was the Cuban Missile Crisis, the first heart transplantation operation and one of the world's most beautiful cars was launched: the Jaguar E-Type.
The Glashütte Original Sixties Iconic Square is a funky copy of the Sixties Square Chronograph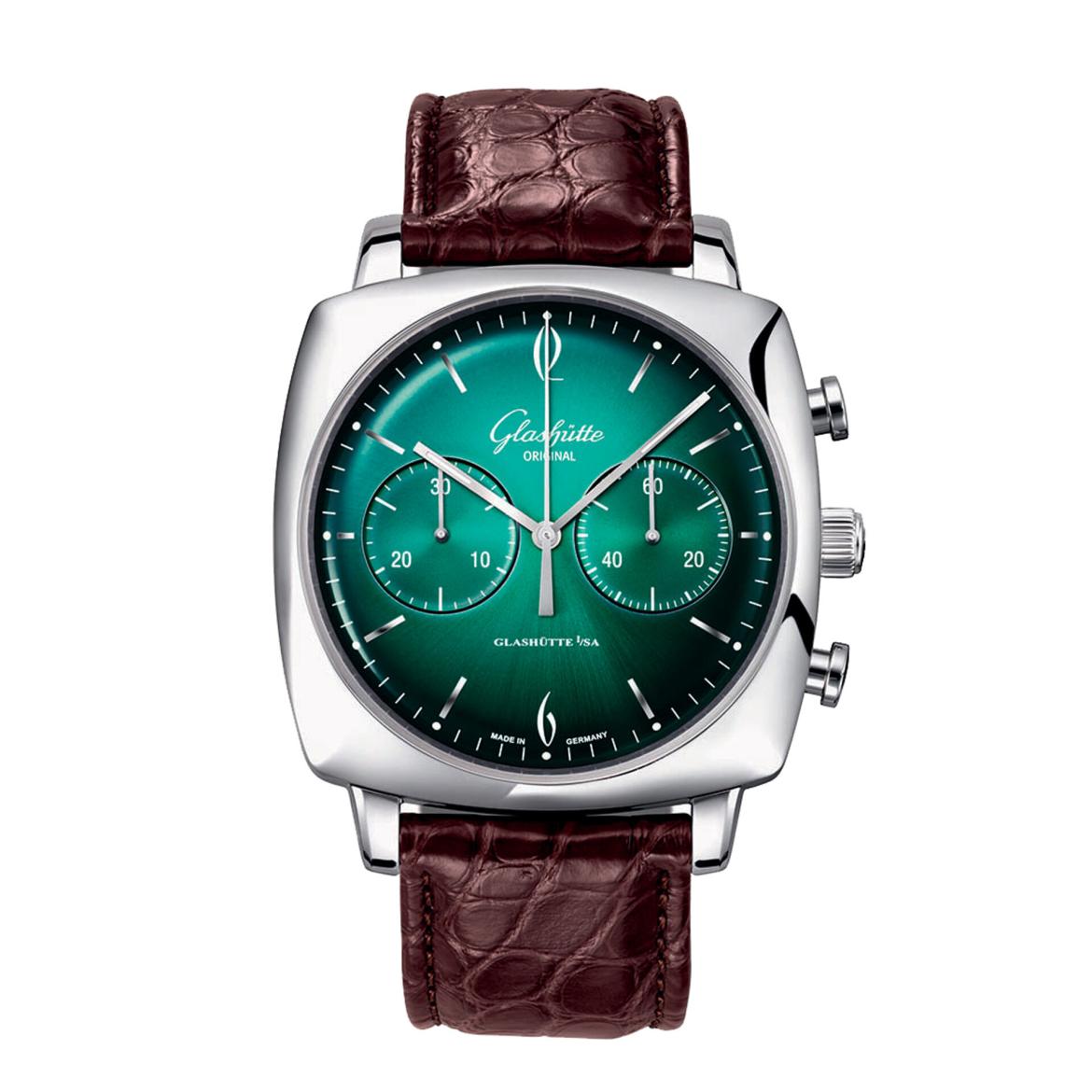 It was also a period with several notable assassinations: John F. and Robert F. Kennedy, Malcolm X, Martin Luther King and Che Guevara. The female birth control pill was released in the US and the compact cassette was introduced. And of course, there were The Beatles and the Rolling Stones (and The Who, Pink Floyd, The Kinks, The Doors, The Supremes, Bob Dylan, Elvis, Cream, John Coltrane, Simon and Garfunkel, The Beach Boys and many, many more). And Woodstock. Dark colors from interiors and fashion changed to greens, yellows, pinks, and orange hues; bright and fresh. Which is exactly what this Glashütte Original Sixties Iconic Square series is about.
The idea is not new. In 2015 Glashütte already launched a Sixties Iconic collection with round cases. And they also launched two models names Sixties Square Chronograph, which looks the same as this new collection, with the same movement, but not with these funky colors.
The Glashütte Original Sixties Iconic Square comes in five different colors. Glashütte applicates several layers of colored lacquers, obtaining a 'dégradé' effect: a light center to dark perimeters. Only the grey model features a textured dial. The models: Fire (red), Forest (green), Ocean (blue), Tangerine (orange) and Graphite (grey). Each color is limited to 25 pieces.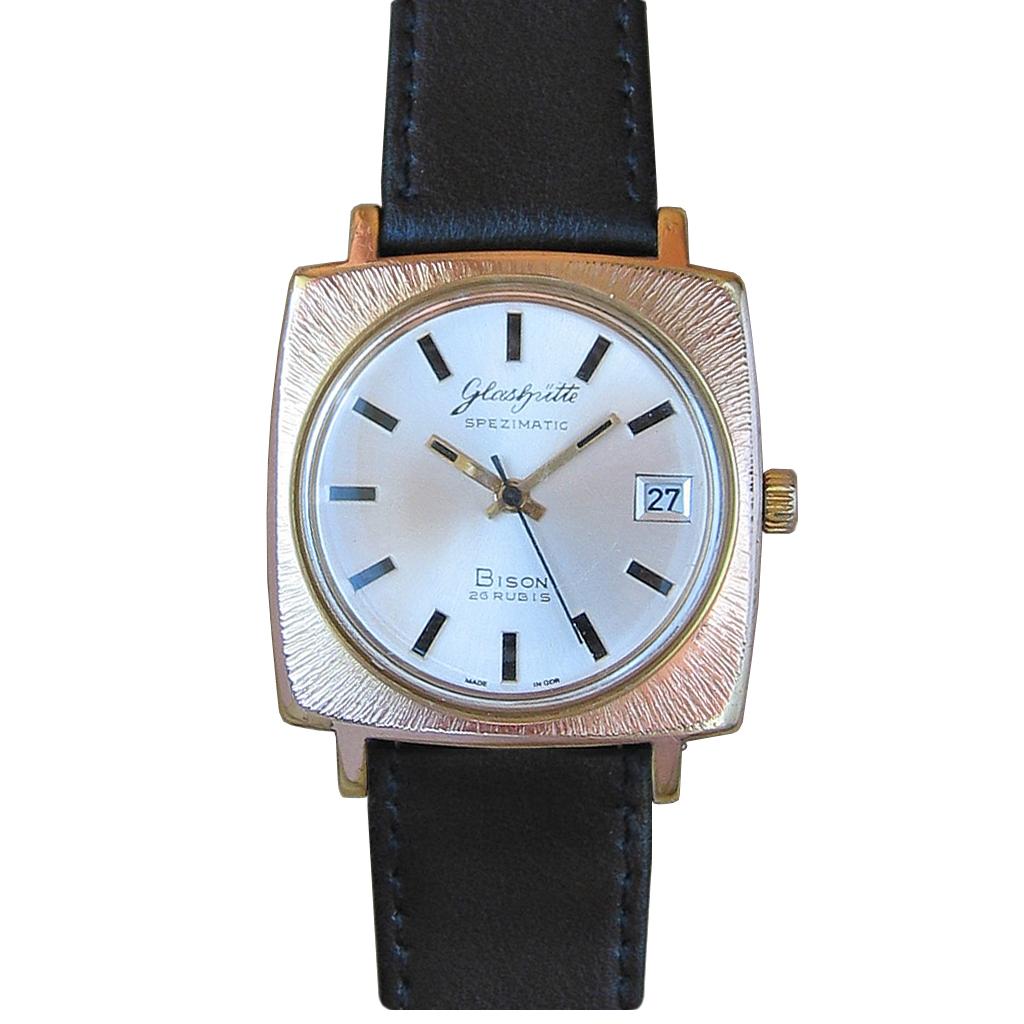 On the left the Glashütte Spezimatic from the 1960s, on the right the caliber 39-34
Technical data Glashütte Original Sixties Iconic Square
Reference:
Red: 1-39-34-24-32-04 | Green: 1-39-34-23-32-04 | Blue: 1-39-34-22-32-04 | Orange: 1-39-34-26-32-04 | Grey: 1-39-34-25-32-04
Movement:
Glashütte 39-34 | Automatic | Diameter: 26.2 mm | Thickness: 4.3 mm | Frequency: 28,800 vph (4 Hz) | Jewels: 51 | 21K gold oscillation weight | Skeletonized rotor | Hours, minutes, small seconds, chronograph | Power-reserve: 40 hours
Case & dial:
41.35 mm × 41.35 mm | Stainless steel | Thickness: 12.6 mm | Sapphire crystals on top and bottom | Screwed case back | Dial varnished in red/green/blue/orange and black with dégradé effect or textured dial in grey | Arabic numerals, milled hour markers | Sunray finish | White gold hands, partially inlaid with Super-LumiNova | Water-resistance: 3 ATM / 3 bar / 30 meters / 100 feet
Strap:
Louisiana alligator leather | Stainless steel buckle
Price Glashütte Original Sixties Iconic Square:
$ 9,700 | € 8.200 | approx. £ 6,950
Website:
www.glashuette-original.com